Many people suffer neck injuries at work each year.  While some of these injuries are minor, many injuries can cause you to miss months or longer from work.  Some injuries require extensive medical treatment including surgery and other procedures.
If you injure your neck and get medical treatment, the doctor may diagnose you with a cervical sprain or a herniated cervical disc.  The term "cervical" refers to the cervical spine which is the upper portion of the spine.  Just think of "cervical" as "neck" for the purposes of this article.
Before moving any further, please know that I am not a doctor.  I am a workers' compensation attorney.  While I have represented many people with neck injuries, I do not have medical training.
Your doctor is the best person to give medical advice about an injury.  This article just seeks to give you guidance in identifying helpful medical resources.  It also gives general information about some of the pitfalls associated with workers' compensation neck injuries.
How do I know if I have a neck injury?
Figuring out whether you have a neck injury can be confusing.  Some neck injuries cause symptoms like cervical radiculopathy.  Cervical radiculopathy and  cervical radiculitis can cause pain, numbness, and weakness in your arms.
Some people with cervical radiculopathy do not have much neck pain.  Because of this, they may not realize that they even have a neck injury.
I have represented clients in this situation.  They have pain in their arms.  They believe they have an arm injury.  When they get seen and evaluated, the doctor ultimately diagnoses a neck condition.
What if I have multiple injuries?
Also, people sometimes have multiple injuries that cause arm pain.  They have an arm injury and a neck injury.  Doctors sometimes refer to this as "double crush syndrome".
People in this situation may find treatment difficult.  Treatment can be difficult because both the neck injury and arm injury could cause pain in your arms.  Your doctor may need to determine which injury is causing more pain before moving forward with treatment.  This knowledge will help the doctor determine which injury to treat first.
What sort of tests are used to diagnose neck injuries?
Doctors use many different diagnostic tests to diagnose neck injuries.  One common way that doctors diagnose neck injuries is through a physical examination.  The doctor performs a physical examination at your appointment.  The video below shows an example:
The responses the doctor receives from the examination help the doctor determine whether your problems come from your neck or some other part of your body.
Doctor also use various diagnostic imagining tests to diagnose neck injuries.  One common test is an x-ray.  This test helps a doctor look for fractures and other neck conditions.
Some other common diagnostic imaging tests are CT Scans and MRIs.  Doctors often used MRIs to evaluate for herniated discs which could cause "pinched nerves" and other painful conditions.
What happens once I know that I have a neck injury?
All of this different testing will help the doctor diagnose your injury. A proper diagnosis helps you receive the right treatment for your injury.  The treatment you receive will depend on what type of neck injury you have.
You might have a cervical strain or sprain.  You might have a herniated cervical disc or a fracture of a cervical vertebra.  There are many different types of neck injuries.  Your doctor will help determine the best treatment for you.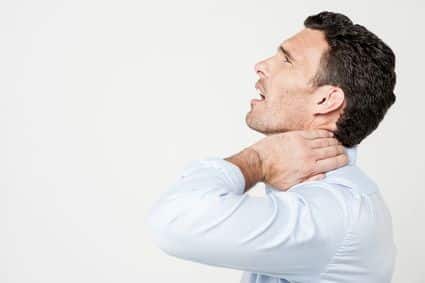 Georgia workers' compensation law makes the workers' compensation insurance company responsible for paying the medical treatment for your injury.  You do have to make sure you follow certain rules to make them pay for the treatment.
Some of the common treatments for neck injuries include:
Anti-inflammatory medications
Physical therapy
Rest
Injections
What if I have to have surgery?
Some more serious injuries require surgical treatment.  Your doctor usually will try other treatments before moving forward with surgery.  But some conditions will require surgery as soon as possible.
Many people have questions about whether they should have surgery.  Your doctor is the best person to answer these questions.  A good doctor will inform you about the risks of having surgery as well as not having surgery.  Your doctor can also give you some reasonable estimate of the chances of success.
From a legal perspective, you need to know that you are not required to have surgery.  The insurance company cannot force you to have medical treatment that you do not want to have.  If you have more questions about that, click here to read another article that addresses that issue in more detail.
What if I have to miss time from work?
If you have surgery, you will almost certainly miss time from work.  Even without having surgery, many neck injuries make it difficult to do your job.
The insurance company should pay you temporary total disability benefits if your injury causes you to miss work.  This payment is a percentage of your lost wages.  You should receive them on a weekly basis.
Another concern that you may have is whether missing time from work will cause you to lose your job. Your job protection depends on what type of employment you have.  Many employees are eligible for leave under the Family Medical Leave Act or other leave through their employers.
But many people are "employees at will" and can be fired for just about any reason.  You may feel that this should prevent you from even filing a workers' compensation claim, but that choice would almost always be wrong.  Read this article to find out why.
What happens if my doctor puts me on work restrictions because of my neck injury?
Many neck injuries limit your ability to function.  They affect your ability to stare at a computer screen for an extended time.  They make it difficult to work overhead.  You may find you have difficulty using your arms repetitively.
If your doctor puts you on restrictions for a workers' compensation neck injury, your employer has a duty to either provide you with a suitable job or pay you workers' compensation benefits.  You should receive temporary total disability benefits if your employer does not have a suitable job.
One common issue that comes up is the suitability of a job.  You may say that you cannot perform a certain job.  Your employer may claim that you can.  Sometimes, a workers' compensation judge has to decide these disputes.
Will workers' compensation pay me any other benefits for my neck injury?
This article has focused on medical benefits and wage loss benefits.  The third primary benefit that workers' compensation provides is permanent partial disability benefits.  Workers' compensation pays these benefits to compensate you for permanent impairment from your injury.
What if my neck injury continues to cause me problems and I need more medical treatment?
The workers' compensation insurance company has to pay for medical treatment for your neck injury, but Georgia law places limits on that obligation.  The primary limit became part of the law in July 2013.  If your injury occurred after June 30, 2013, then the insurance company only has to pay for medical treatment for your injury for 400 weeks from your injury date.
That limit does not always apply.  If you can prove that you have a catastrophic injury, you will not have a limit on how long you can make the insurance company pay for medical treatment for your injury.
Are there limits on how long I can receive benefits for a neck injury?
If your injury is not catastrophic, your medical benefits will stop at 400 weeks.  Also, your weekly workers' compensation benefits will stop as well.  Georgia law has a 400 week limit on temporary total disability benefits if your case is not catastrophic.
Georgia's law also has many other limitations on benefits.  One of the primary types you need to know about are statutes of limitation.  Georgia has several statutes of limitation.  Be aware of all of them because they can drastically affect your case and your right to benefits.