Many people have questions about workers compensation hearings.  Some of the questions that people wonder about are:
Are workers compensation hearings like the courtrooms shown on TV?
How long it will take to get to court?
Will their case will be decided by a jury?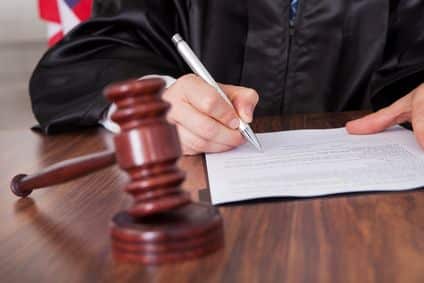 This article will attempt to provide a general overview of the litigation process in a Georgia workers compensation case to answer some of those questions.
Hearing Request and Discovery
The Georgia workers compensation court process begins with a Form WC-14 hearing request.  The Form WC-14 determines what issues will be addressed in court.
Afterward, there is a period of time during which the attorneys representing the injured worker and the employer engage in "discovery".  The discovery process usually includes depositions and obtaining medical records and other documents.  "Discovery" is basically each side's opportunity to get the information necessary to present their case in court and prepare for the other side's case.
Notice of the Hearing
The State Board of Workers' Compensation will issue a Notice of Hearing with the court date.  The court date will usually be 30 or 60 days from the date the hearing is requested.
Often, these hearing dates are reset or rescheduled if either or both sides needs more time to get information before going to court.  It is up to the Administrative Law Judge assigned to the case to decide if a hearing will be reset.
Going to Court
When the case does go to court, there will not be a jury.  In Georgia, workers compensation cases are decided by an Administrative Law Judge who specializes in workers compensation.
On the court date, both sides will have an opportunity to call witnesses to testify and to introduce other evidence.  The evidence introduced will usually include medical records for treatment of the injury and other important documents.  In most situations, workers compensation cases take an hour or two in court but can certainly last longer.

The Judge's Award
It is important to know that the Administrative Law Judge generally does not make a decision in court.  Both sides will submit written arguments called "briefs" to the judge after court.
The judge will review the briefs and the evidence and issue a written decision called an award which gives the judge's decision in the case.  The award will either be mailed or e-mailed.  If either side disagrees with the award, it can be appealed to the Appellate Division of the Georgia State Board of Workers' Compensation.
Do I Need an Attorney?
This is a very brief overview of the process of going to court.  There are many technical rules that must be followed during all parts of the workers compensation process – from discovery to presentation of evidence in court.
If your case is going to go to court, I would recommend that you consult with an attorney who specializes in workers compensation to make sure you have the best chance of winning your case.