Installing roofs is dangerous work.  A report released by the Bureau of Labor Statistics in 2020 show that roofers had on of the most dangerous profession with over 51 of every 100,000 roofers dying from an on the job injury each year.  This number only considered fatal on the job injuries and did not address other serious injuries that happen to roofers.
One of the biggest risks to a roofer is a fall off of the roof.  These falls are likely to be deadly or cause serious and potentially permanent injuries.
Apart from falling, other risks roofers face include risks faced by many other occupations:
Heavy lifting can cause back, shoulder, arm, or leg injuries.
Shoulder and arm injuries can occur from using tools and other equipment.
Knee and leg injuries can occur from climbing, twisting, or misstepping.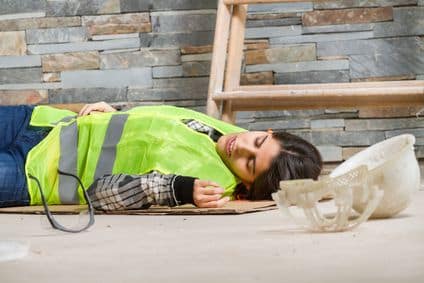 When you suffer an injury on the job, you should receive workers compensation benefits.  It is critical to understand how workers compensation works in your state or to have someone on your side who does understand and can fight on your behalf.
Each state has different workers compensation laws.  This article provides some helpful information about Georgia's workers compensation laws and how they work with particular attention to issues that roofers will face after a serious injury.
Does Georgia workers compensation pay for medical treatment for my roofing injury?
Yes.  Payment for medical treatment and testing is one of the primary benefits provided under Georgia workers compensation.  The workers compensation insurance company should pay one hundred percent of the cost with authorized medical providers.  This means that there is no copay or deductible to you when you are treating under workers compensation.
This is important because falling from a roof can cause serious injuries which permanently affect your ability to work.  Getting good medical treatment after these types of injuries is critical to your recovery.
One important thing to understand is who is an authorized medical provider.  Under Georgia's workers compensation laws, you have a primary doctor known as your authorized treating physician.  This doctor can treat and test you and also refer you to other specialists.
You need to be sure to treat with an authorized medical provider.  If not, then the workers compensation insurance company may not have to pay for your medical treatment and testing.
Even if you are seeing an authorized medical provider, the workers compensation insurance company may try to delay or deny your medical treatment.  This article talks about some of the common medical treatment delay tactics that insurance companies take.
Will workers compensation pay me benefits if my injury prevents me from working?
Yes.  Wage loss benefits is another of the benefits provided under Georgia workers compensation law.  There are two types of wage loss benefits provided:
The insurance company should pay these wage loss benefits to you on a weekly basis.  You should receive temporary total disability benefits if your injury keeps you totally out of work.  If you are able to do light duty work but are making less money as a result of your injury, you may receive temporary partial disability benefits.
The amount of these wage loss benefits depends on what you were making before you got injured.  The insurance company generally pays you two-thirds of what you were averaging in the 3 months before your injury.  While that is the general rule, this can vary in some situations.
What happens if my injury prevents me from every returning to my regular duty roofing job?
A serious injury can often be life changing.  Even when you recover to the fullest extent possible and reach maximum medical improvement, you could have permanent restrictions that prevent you from returning to the type of work you did before.
In some states, your workers compensation wages loss benefits stop when you reach maximum medical improvement.  Fortunately, that does not automatically happen in Georgia.  If your injury still prevents you from returning to work, your wage loss benefits should continue.
Georgia's workers compensation does have limits on how long you can receive wages loss benefits, but it also has exceptions to those limits.  Understanding when your benefits could stop and what the exceptions to those limits are is extremely important if you suffer an injury that causes you to have permanent work restrictions.
Can I receive workers compensation benefits if my spouse or parent died from a roofing injury?
Unfortunately, many workers die each year following from roofs.  When this happens, they often leave behind family that depended on them for support.  Georgia's workers compensation law provides dependency benefits to the dependents of workers who die as a result of work-related accidents.  These benefits are paid on a weekly basis just like the workers compensation wage loss benefits mentioned above.
The recipients of dependency benefits are determined by statute.  The spouse of the deceased worker should receive dependency benefits as a dependent.  The children of the deceased worker should also receive benefits as dependents, as long as they are under a certain age or if they are incapable of earning a livelihood.
In some situations, other individuals can receive dependency benefits as well.  This usually happens if there is not a spouse or child who is eligible to receive dependency benefits.  If you have questions, you can find more information about dependency benefits in this article or reach out to our office to schedule a free consultation.