Many people have heard about workers compensation settlements.  But, they often do not understand exactly what settlement means or how it works.
A serious neck injury can affect you for the rest of your life.  Some serious neck injuries that often occur at work are herniated discs or spinal fractures.
There are other types of serious neck injuries as well.  Because of how these injuries affect you, you need to understand exactly what settlement will mean before settling your case.
What is a workers compensation settlement?
In Georgia, a workers compensation settlement is an agreement between you and the insurance company.  The insurance company offers to pay you a certain amount of money.  If you accept it and move forward with settlement, you give up your workers compensation case.
Basically, the insurance company buys your workers compensation case from you.  Often, they want to do this because your case will cost them money in the future if it stays open.
Since this article focuses more specifically on neck injuries. I am not going to go into as much detail here.  But, I would recommend taking a look at this article that goes into a lot more detail about what a settlement is and how it works.
Do I have to settle my workers compensation neck injury case?
That is easy.  You never have to settle your neck injury case.  While settlement is a choice that is normally available to you, the insurance company cannot force you to accept a settlement.
Some people decide that they never want to settle their cases.  Other people decide to wait until a certain time before settling.  The nice thing about settlement is that you have some control over this decision.
What happens if I do not settle my neck injury case?
If you do not settle, your case stays open.  You may still be entitled to additional benefit from the insurance company in the future.  Or, those benefits could stop at some point.
The insurance company should pay benefits that they agree you are owed.  If they dispute owing you additional benefits, you may have to take the insurance company to court to get those benefits paid.
One important thing to remember is that there are limits on the benefits you can receive under Georgia's workers compensation laws.  Some laws are how long you can receive both wage loss and medical benefits. There are also limits on how long you have to request workers compensation benefits.
These limits affect what benefits you will receive if you do not settle your neck injury case.  You should consider them when deciding whether you should settle your case or not.
When should I settle my neck injury case?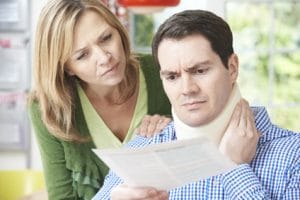 If you decide to settle, the timing of settlement will depend on a number of different factors.  Some of them include:
Have you reached maximum medical improvement?
Do you have a financial need to settle your casce?
How will a settlement affect your entitlement to any other benefits?
What is likely to happen once your case has settled?
It is ultimately about making the best decision for you.  You will probably want to consider what additional medical treatment you will need for your neck injury.
Have you had surgery or is the doctor recommending it?If you can get most of the medical treatment you need before settlement, that is usually a good decision.
You will also need to consider what will happen to you financially once your settlement is finalized.  Will you be able to go back to work and earn income after settlement?
How much should I settle my neck injury case for?
What settlement offer you should accept after a serious neck injury depends on a number of different factors.  Here are just a few that will affect that decision:
What is the amount of the weekly check for TTD or PPD  paid to you by the workers compensation insurance company?
What is the cost of your likely future medical treatment?
How long is your injury likely to keep you out of work?
What permanent partial disability rating did your doctor give you?
When I perform a settlement evaluation for someone I am representing a workers compensation, I look at these factors and a number of others.  Our firm created a spreadsheet that factors in all the different thing we want to consider in settlement.  I use that spreadsheet as a guide to do my settlement evaluation.
You need to make a good decision about settlement because it is very difficult, if not impossible, to undo a settlement once the State Board of Workers' Compensation has approved it.
Can I settle if the insurance company denies my case?
Yes.  You can still settle your case if the insurance company denies it.  If you do, this will often result in a no-liability settlement which is where the insurance company agrees to the settlement without admitting liability for your injury.
No-liability settlements are a little bit strange.  One important factor to consider is that the insurance company often will not agree to pay for your outstanding medical bills.  This can be an important factor i you have had or will need expensive medical treatment like neck surgery or pain management.
What happens if I agree with the insurance company on a neck injury settlement?
The first step to agreeing on settlement is agreeing on the amount of the settlement.  Once that is done, the settlement is still not final.
Workers' compensation settlements work differently than almost any other types of settlements.  The main difference is that the Georgia State Board of Workers' Compensation must approve the settlement before it becomes final.  Until the settlement is approved, either side can technically back out.