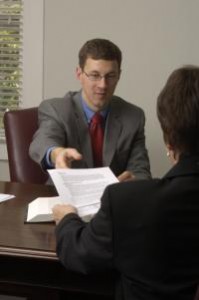 Because we specialize in workers' compensation, we try cases in many parts of Georgia, but we still live and work in the same small town where our firm was founded in 1952. Living in a small town means that, long after the case is over, we still see some of our clients in the grocery store or at the diner down the road. This helps us remember that whatever we do as lawyers must not just be best for the case in the short run – it must be the best thing for the client and their family in the long run.
You may be reading this article because you know or suspect that the insurance company is not treating you fairly. If you are not being treated fairly, then a lawyer can fix that problem. But even if you are not being treated fairly, fighting to get all the law requires is not always the best option.
Hiring a lawyer will definitely help your case, but will it hurt you in other ways?
To look out for your best interests, a good workers' compensation lawyer will make sure that you look at the big picture and weigh all the advantages and disadvantages of hiring a lawyer. In the following series, we will help you determine whether hiring a lawyer on your workers' compensation claim is in your best interest.
The first step in deciding whether to hire a lawyer, you must carefully consider a few simple questions:
Do you have a future with the company?
Will hiring a lawyer cost you your job?
How much are you losing by giving up your job?
How much are you losing by trying to keep your job?
How will hiring a lawyer help me?
Do you have a future with the company?
Fighting to receive proper workers compensation is not always the best option. There are many ways lawyers can help you get all the money you deserve, but there can also be negative consequences as well. Before you decide to hire a lawyer and fight, you need to consider all the reasons you should not hire a lawyer. In this series, we will help you determine whether filing a workers compensation claim is in your best interest.
Do you want to stay?
There are many reasons you may want to stay at your current job despite your injuries. These reasons include things such as good pay, good benefits or good friends. If you love your job and think it would be difficult to replace, than you need to think about what effect hiring a lawyer is going to have on your chances of keeping your position. Trying to make your employer do what the law requires can create hard feelings.
Will the employer allow you to stay?
Even if you want to stay, the employer may not let you. Some employers will consider your injury a black mark against you and will begin looking for a reason to fire you.
On the other hand, some employers will still treat you fairly after an injury. The best test of how they will treat you is how they have treated other injured employees in the past. You should ask around to get this information. We have fought cases with many companies, so we can often tell you how your employer has reacted in the past and help predict how they will react in your case. Give us a call or fill out the "Need Help" form and one of our lawyers will be glad to discuss this with you without any charge.
Will the employer stay in business?
Whether or not the business might fold will effect your decision. You may want to stay at the job and your superiors might want to keep you, but if the business will be shutting it's doors, you will want to make sure you are protecting yourself by hiring a lawyer.
If the injury will effect your potential in the job market, you will need a lawyer to get you the money to pay for any education or retraining that you will need. If your employer closes, the insurance company still has an obligation to make good on your workers' compensation claim.
If you answered YES to all three questions, you should still talk to a lawyer and get good legal advice on how to proceed. Most lawyers will talk to you without charging any fee for that first meeting. Make the lawyer aware of the reasons you might not want to fight your employer. Ask yourself if that lawyer is looking at what is be best for you and your family in the long run – not just what is best for the case in the short run.
If you answered NO to any of the above questions, you have the green light to move onto the next important question that will help you weigh the pros and cons of hiring a lawyer.
Will Hiring A Lawyer Cost Me My Job?
Do not assume that hiring a lawyer will cause your employer to dislike you. While it may, it depends on the employer. Some employers understand that everyone ought to get good advice when dealing with complex legal issues.
Problems in your claim can be a result of the insurance company, not your employer. We have had cases where the employer knew the insurance company was not treating the injured worker right and the employer even told their employee to get a good lawyer!
How have they reacted in the past?
In order to know how your employer will react to you fighting to protect yourself, you need to look at past cases with your company where the injured worker has hired a lawyer. Our law office was established in 1952. Because we have handled so many cases over the years, we can often provide you with some insight into how a particular employer has treated past injured employees.
If hiring a lawyer will not cause any problems with your employer, then there may be no good reason not to hire one. If hiring a lawyer will cause problems, then you need to know the advantages of having a lawyer and weigh those advantages against the disadvantages.
How Much Are You Losing By Giving Up Your Job?
If you have come this far, you may have concluded that you are willing to walk away from your job, but thinking realistically about the consequences of job loss requires deeper considerations. Many people think that giving up their job sounds like a balanced exchange for receiving proper compensation, and that might be the case. But the word of caution is to make sure you are being realistic about your expectations.
What relationships do you have?
There could be many important reasons that you have continued working for your present employer. Many people get satisfaction from their work, they just love what they do. They have made lifelong friends, possibly even met their significant other, and don't want to risk losing them. Sometimes, there is even family who works at the same facility. Consider how having to leave the company may affect all those relationships.
Can you make just as much somewhere else?
Will you be able to find a job that has a comparable salary and benefits? If you have already invested a significant percentage of your working life with your present employer, is it worth going back into the job market and starting all over again? If the injury will go away over time, you can probably roll with the punches and get back to 100% eventually. But if not, then keep reading
How long is the injury going to last?
A major consideration of whether to fight for proper compensation is how long the injury will affect you. You may have a deep cut that required many stitches, but if you will be able to get back to work in a month, it probably isn't worth fighting. Fractured bones are dramatic, but if they are not near a joint, they normally heal well allowing you to get back to work in a few weeks or months.
Degenerative diseases, allergic reactions, and other permanent disabilities that affect your ability to properly perform your job aren't temporary problems. So if you expect the problem will last a long time, then you need to realize that it's going to affect your job performance and your ability to find another job.
How Much Are You Losing By Trying To Keep Your Job?
After you have considered whether you have a future with the company and know what you are losing by giving up your job, the last step is to consider what you are losing by trying to keep your job. A free consultation with a workers' compensation lawyer will give you clear understanding of how much you are losing by not receiving proper workers' compensation.
What are you giving up?
When you are injured at work, there is a good chance your injury will eventually inhibit your job performance. If a problem is going to stay the same or worsen over time, the medical bills won't end and your opportunity for performing that same job at 100% in the future is very unlikely. This can result in limiting hours, lost wages, and an even greater likelihood of being fired. If workers' compensation is not agreeing to all the medical treatment you need, then getting that proper medical attention can lead to burdensome payments out of your pocket.
It is important that you not act too quickly and give up a good job over an injury that will heal. It is just as important that you not act too slowly in protecting your legal rights when it becomes apparent that an injury is going to cause serious permanent problems.
Long Term Injury
Some people allow their injuries to drag on too long because they don't want to change the status quo. At some point, the lack of adequate compensation will outweigh the advantages of trying to keep your current job. Remember that, as your injury worsens over time, your employer's attitude about whether you have a future there may change.
Many injured workers have kept working too long. They have not only injured themselves worse by doing this, they may have also kept working until the employer laid them off or fired them for some made up reason. By waiting until they are terminated, they have made it much harder to win their case, because now the employer will argue that the only reason they are fighting is because they are mad at the company for firing them.
Many of our clients feel like they have no say so in the important decisions such as what doctor they see or what light duty job they must try. All these decisions are being made by the insurance company lawyer, the adjuster, the nurse case manager or the employer. Everyone is trying to minimize their costs and sometimes, employees who have suffered a work related injury will get the short end of the stick. No one should have to give up their health and their dignity because of a work related injury.
How Will Hiring A Lawyer Help Me?
There are several possible ways a lawyer can help:
Make insurers pay outside doctors and specialists that will make a real difference in your health and your case.
Deal with the case managers or even have them removed from your case, giving you the upper hand. Insurers often have "case managers" who try to control everything about your medical care and interfere in the doctor patient relationship.
Lawyers know what insurers are required to do by law and can make them pay penalties if they refuse or delay treatment despite what the laws require. Workers' compensation lawyers relieve the overall stress you experience from having no control over any of the important decisions in your case. Finally, a good lawyer will get you better results- both financial and medical- than you can get on your own.
Perkins Studdard has a long track record of getting the best possible results on your workers' compensation claims. If we take your case, we can help make the insurance pay you what they should instead of the reduced amount they often try to pay. But we won't help you just because we can. If you become our client, it is because we believe that doing so will be the best thing for you and your family.
A free consultation with a workers' compensation lawyer will give you clear understanding of how much you are losing by not receiving all the rights and benefits that you are supposed to receive when injured on your job. To get a free consultation with one of our attorneys, simply call the phone number at the upper right of this page or