I often discuss mediation with my clients.  When I do this, I almost always ask them if they know what a mediation is.
Some of them have a basic understanding of mediation.  Others are not familiar with mediation at all.
In this article, I will discuss what mediation is generally and talk specifically about what a settlement mediation is in a workers compensation case.
What is a mediation?
Mediation is a process to resolve disputes.  In a mediation, the people or groups with a dispute get together on a particular day.
What makes mediation different than other dispute resolution processes is the use of a mediator.  The mediator is a neutral person who works with the parties to help them try to resolve the dispute.
A mediator is different than a judge or an arbitrator.  Judges and arbitrators actually make decisions about a dispute.
Mediators do not make decisions.  They simply talk with each side.  The people or groups involved in the dispute make the decisions at a mediation.
Do I have to go to mediation?
It depends.  Mediation can sometimes be court ordered.  If so, you probably have to go.
But, settlement mediations in Georgia workers compensation cases are almost never court ordered.  They are generally voluntary.  This means that usually have a choice about whether you participate in a Georgia workers compensation settlement mediation.
If you do decide to participate in mediation, there are rules that apply.  However, those rules do not require you to settle your case.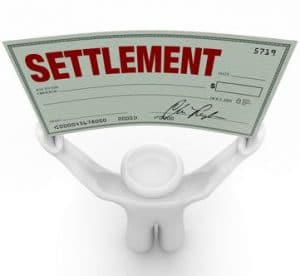 Will I receive a settlement at mediation?
You may agree to settle your case at mediation.  But you usually do not receive your settlement at mediation.
With a Georgia workers compensation case, the Georgia State Board of Workers Compensation must approve your settlement before it becomes final.  Also, the insurance company has 20 days from when the settlement becomes final to pay the settlement.  This article explains more about the Georgia workers compensation settlement process.
You also need to understand that a mediator cannot order a settlement.  The mediator will not order you to settle your case.  But, the mediator will not order the insurance company to settle the case either.
Many injured workers find this very frustrating.  They want the insurance company to offer a fair settlement amount.  Sometimes, they simply will not.  While mediation will often result in a reasonable settlement offer, it is not a guarantee of one.
What does settlement of my workers compensation case mean?
Settlement is basically an agreement to sell your workers compensation case to the insurance company.  The amount that you accept in settlement is generally negotiated.
Most settlement negotiations involve offers back and forth.  Sometimes, there are many offers.  Other times, there are only a few.
If you have an attorney representing your in your workers compensation case, the attorney should handle the negotiations with the insurance company.  Even though the attorney will handle negotiations, it is your case so you will make the decision about what settlement authority you give your attorney.
While you can settle your case at mediation, you do not have to settle.  If you are considering settlement, you may find it helpful to read this article I wrote which discusses workers compensation settlements and the things you should consider in a lot more detail.
Are workers compensation mediations helpful?
Most of the time, mediations are helpful.  A mediator can often give you perspective on your workers compensation case and what might happen in the future.
The mediator's perspective can help you understand what could happen in the future on your case.  This understanding often helps when making a decision about whether you should settle your case or not.  It also helps you decide what amount you should settle for.
Also, a mediation usually will help you find out how much money the insurance company is willing to offer to settle your case.  Knowing this information can help you make the decision about whether you should settle or not.
Do I have to have an attorney at mediation?
No.  You do not have to have an attorney at a workers compensation mediation.  You do not even have to have an attorney to settle your workers compensation case.  While you may ultimately decide not to hire an attorney, I would strongly recommend that you talk to an attorney before a settlement mediation.
As I have discussed in past articles, settlements are almost always final once the State Board of Workers Compensation approves them.  You need to make a good decision about settlement.
With all of the information about your case, a good workers compensation attorney can help you make a good decision about settlement.  A good attorney can also help you get the best settlement offer from the insurance company.