Uber and Lyft have grown into billion dollar companies in a relatively short time.  Uber employs over 1 million drivers, and Lyft has over 100,000.
Some Uber drivers suffer injuries in car wrecks.  Others may suffer an injury loading or unloading a customers luggage.  So, what happens when Uber and Lyft drivers suffer workers compensation injuries?
Georgia's state legislature and others adopted workers compensation laws to deal with problems arising from growth in industry in the late 19th and early 20th century.  Most state workers compensation systems are around 100 years old.
The age of the system causes issues when addressing workers compensation coverage for injuries that arise under the new "sharing economy".  Uber and Lyft are very new.  Neither of them is ten years old.  State workers compensation laws have not necessarily caught up to these new issues.
Does workers compensation cover me if I drive for Uber or Lyft and suffer an injury?
Not necessarily.  One fundamental issue for Uber and Lyft "employees" is whether they are "employees".  Uber claims that their drivers are independent contractors.
Why does this matter? Generally, workers compensation laws only provides benefits for employees.  Most state's workers compensation laws do not cover independent contractors.
Also, workers compensation benefits are not the only issue.  Most laws that govern the employer/employee relationship do not apply to independent contractors.  So, most independent contractors have fewer benefits that employees.
Can I file for benefits for an Uber workers compensation injury?
You will need to check the law of the state that will apply to your claim.  If you suffered an injury working for Uber in Georgia, you can file for workers compensation benefits.  However, a workers compensation court will determine whether you receive any benefits.
A judge at the Georgia State Board of Workers' Compensation would make that decision.  The State Board publishes many of its decisions on its website.
A March 2017 search for decisions mentioning "Uber" and "Lyft" did not produce any results.  Based on this search, it appears the State Board of Workers' Compensation likely has not addressed the issue.
How do I determine whether I am an employee or an independent contractor?
This can be a difficult question to answer.  Many times, people call me about an injury at work.  After talking to them, I often find it is not absolutely clear whether they were an employee or an independent contractor.
Of course, my determination does not matter.  A court will make the final decision on this issue.
Georgia courts have tried to establish guidelines to address the independent contractor versus employee issue.  The fundamental question in making the determination is whether the employer had the right of control in exercising the time, manner, and means of executing the work.
What does it mean to have "right of control"?
I think of it this way.  With an employee, the employer can tell them how to do everything.  The employer might say "Deliver this pizza at 4 p.m. today and come right back afterward".  The employer has the right to do that with an employee.
So, how is the typical independent contractor situation different? Instead of an employment relationship, an independent contractor has a contract.
For instance, I hire someone to paint my fence at my business for $300.  They agree to do it.  We have a contract (even if it is not in writing) that says they will paint my fence and I will pay them $300 when they do.
That contract spells out and controls our agreement.  Unless it is in the contract, I cannot demand that they paint my fence at a particular time.  I cannot require them to paint it in a particular way.
So, an employer has the right of control in an employment relationship.  On the other hand, the contract controls an independent contractor relationship.
Am I more likely to be an employee or an independent contractor working for Uber and Lyft?
Uber clearly wants to claim that its drivers are independent contractors.  Uber sends its "partners" a 1099 and provides information on its help site about how to access it.  Lyft provides 1099s to its drivers as well.
Because they send 1099 forms instead of W-2s, both Uber and Lyft seek to classify their drivers as independent contractors.  But, would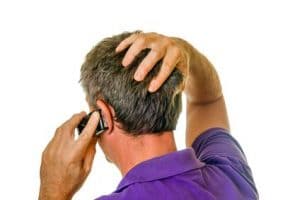 that hold up in Georgia?
This is an interesting question.  1099s are not binding on Georgia workers compensation courts.  I have won cases where my clients were sent 1099s but a court ultimately determined they were employees.
So, Uber workers compensation injury cases in Georgia will likely come down to right of control.  Uber and Lyft argue that they do not have the right of control over their drivers.  They claim their drivers have the freedom to work whenever they want.  But, they do exercise some control over their drivers.
What should I do if I suffer a Lyft or Uber workers compensation injury?
You should talk to an attorney.  In Georgia, both Uber and Lyft will probably deny any workers compensation claim on the grounds that you are not covered by the workers compensation law as an independent contractor.
You should be able to get a free consultation with an attorney to discuss the specific facts of your case.  This consultation should help you determine whether you should pursue your case further.