Meredith Thompson was sworn in as an attorney on November 13,  2017 by the Honorable Bill Hamrick at the Carroll County Courthouse.  She joined Perkins Studdard, LLC after she obtained her Juris Doctor from the University of Georgia School of Law.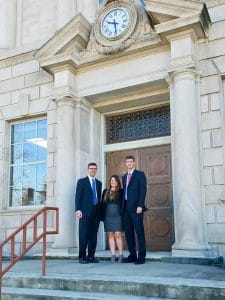 Meredith will work on both the Workers' Compensation and Veterans Disability teams at Perkins Studdard.  She will represent injured and disabled veterans in veterans disability benefits claims and injured workers in workers' compensation claims.
In order to be admitted to the Georgia State Bar, Meredith had to pass the July 2017 Georgia Bar Examination.  Only around two-thirds of test takers passed the July 2017 Georgia Bar Exam.  Meredith passed on her very first attempt.
All of us at Perkins Studdard are very proud of Meredith's accomplishments and excited to have her as part of our team.  Please join us in congratulating Meredith on this great accomplishment.