All of us at Perkins Studdard want to congratulate Cliff Perkins as he celebrates his 40th year practicing law in Georgia.  Cliff has devoted most of that 40 years to fighting to get justice for Georgia's injured workers.  He has successfully tried workers' compensation cases in all levels of the courts, including the Supreme Court of Georgia.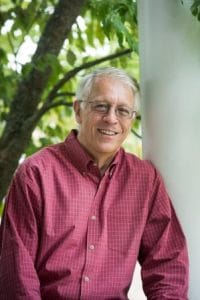 When he began his legal career, Cliff practiced law with his dad C. C. Perkins and then with his sister Ann-Margaret.  He now practices with his son Jason and Jason's brother-in-law Travis Studdard.
When asked about his dad, Jason Perkins said, "He is one of the hardest working people I know.  He fights for what he believes in.  I consider myself very lucky to have him as a mentor."
Travis Studdard added, ""Cliff is a special attorney and person.  He has one of the best legal minds I've seen, but his greatest gift is probably his desire to help others.  I've been blessed to watch and learn from him for so many years."
Throughout his legal career, Cliff has been a featured speaker at meetings and seminars on all different areas of Georgia's workers' compensation law.  His passion and dedication to his work have also resulted in him being selected by his peers to serve in many leadership roles including:
Chairman of the Workers' Compensation Section of the State Bar of Georgia;
Chairman of the Board of WIN-PAC, the political action committee for injured workers in Georgia;
Chairman's Advisory Council of the State Board of Workers' Compensation
The Board of Directors of the Georgia Workers' Compensation Claimants Lawyers
Fellow of the National College of Workers' Compensation Lawyers
All of us at Perkins Studdard are very proud of Cliff's accomplishments and his continued dedication to helping Georgia's injured workers.  We are proud to have him as a part of our team!