You have thought about hiring a workers compensation attorney.  But, how do you decide who you should hire?
You want to make sure the workers compensation insurance company does not take advantage of you.  Yet, many people put off hiring an attorney because they find the process difficult.  Some people find it intimidating.
If you put off hiring an attorney for too long, you will probably hurt your case.  The good news is that there are some simple steps you can take to make sure you hire a good workers compensation attorney.
Talk to people you trust to find out if they know a good workers compensation attorney
You may have friends or family members who suffered a workers compensation injury.  If so, you should consider talking to them to find out if they hired a workers compensation attorney.  Their experiences may help you.
Sometimes a friend will recommend a particular attorney to you.  Other times, a friend may tell you not to hire a particular attorney because of a bad experience they had.
Just remember that most attorneys do not specialize in all areas of the law.  The attorneys at our firm specialize in particular areas of the law so that we can better advise our clients on that area of the law.  When someone contacts us about another area of the law, we refer them to attorneys we know that handle that area of the law.
Attorneys specializing in a particular area of the law know the special rules for that area that can often make the difference in your case.  They also keep up with changes in the area in which they specialize.
Not many attorneys are good in all areas of the law.  If you are dealing with a workers compensation case, then I would recommend that you hire an attorney specializing in workers compensation.  I specialize in workers' compensation cases.  Some other attorneys specialize in this area as well.
Review the attorney's website
You can find all kinds of information by using Google or another search engine.  Most attorneys have firm websites.
If a friend or family member recommends a particular attorney, go to that attorney's website.  Review the information on there.  By looking at the website, you should gather a lot of information about the attorney and the law firm.

Many websites have articles or blogs posted about the areas of law in which the firm specializes.  When dealing with a workers compensation case, you will probably want to check and see how much information the website has about workers compensation.  If the website does not discuss workers' compensation much, that may cause you concern about how much the law firm really knows about that area of the law.
You can even try to locate information on websites about your particular legal issue.  For example, you might have an issue with denial of your medical treatment.  You could have a question about what settlement means.  Sometimes, looking around the website may even provide the answer to a particular question you have.
Set up a free consultation with the attorney
If you can solve your problem without hiring a workers compensation attorney, that may save you a little money.  However, I believe you should always talk to an attorney after you have been hurt at work.  You should do this even if you are not currently having any problems in your case.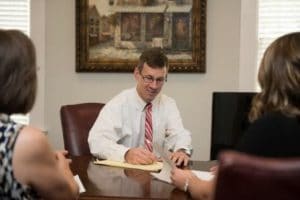 Many workers compensation attorneys provide free consultations.  If you can talk to a good workers compensation attorney for free, I would suggest that you do it.  You have nothing to lose.  You may find out some things that you did not know that prevent you from making a mistake in your case.
Even if you have already decided which attorney you want to hire, set up a free consultation first.  This provides you the opportunity to discuss your case with the attorney.
You need to be able to trust your workers compensation attorney.  Talking directly with them will help you know whether you feel comfortable hiring  the workers compensation attorney to represent you on your case.
When someone schedules a workers compensation consultation with me, I discuss the issues in their case as well as what I could do for them.  I also tell them whether or not I think they need to hire an attorney at this point in their case.   My goal is to provide helpful information them with helpful information so they can make the best decision.